The first thing we need to explain is what is the "soft cost" of photovoltaic systems. This concept can be illustrated by the following formula:
Soft cost = total cost-hardware (module, inverter, structural and electrical BOS) cost
PV system soft cost = total cost-hardware cost (components, inverters, brackets, electrical)
Specifically, soft costs include costs such as land, labor, taxation, administration, and profits. As can be seen from the figure below, the hardware cost of photovoltaic systems in the United States has fallen sharply over the past seven years, and the proportion of "soft costs" has gradually increased.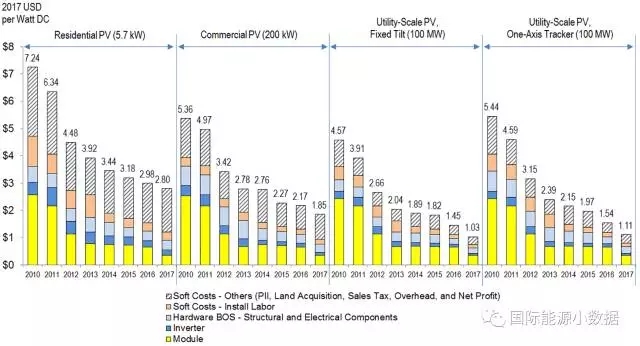 Taking utility-grade (large-scale ground) photovoltaics as an example, soft costs accounted for only 32% of total costs in 2010, while soft costs accounted for 41% of total costs in 2017. In 2017, the soft cost of photovoltaic systems for commercial facilities accounted for 59%, while the soft cost ratio of photovoltaics for households was as high as 68%.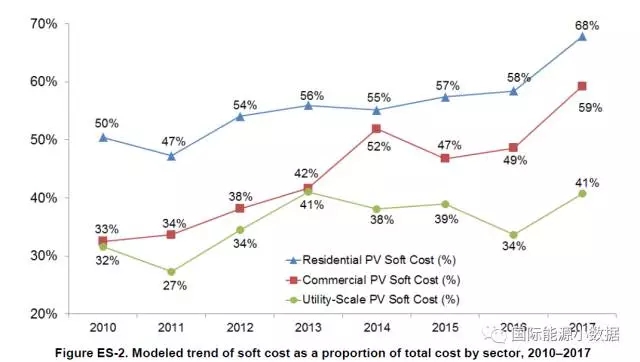 In the future, Jinghui Ting is committed to becoming a professional bridge for financial products and distributed energy business in the field of renewable energy, and to become a domestic brand integrated energy service provider from capital to users and its value-added services, winning for humanity and the entire society A green and clean future.